Robert B. Adelman
Download VCard
Bridgeport: (203) 331-8888
Danbury: (203) 744-4707
Middletown: (860) 343-1051

1000 Lafayette Boulevard
Bridgeport, Connecticut 06604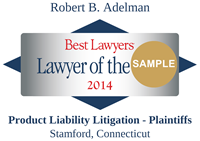 Bob Adelman has been trying jury cases since his graduation from The Cornell Law School in 1978. As a result of his record in the courtroom, he has been listed in The Best Lawyers in America ® , recognized in Connecticut Magazine and New York Magazine, and inducted into the prestigious American College of Trial Lawyers. Bob served as the President of the Connecticut Trial Lawyers Association from 1992 to 1993.
Because of his expertise in the law of evidence, Bob was selected to serve on the Connecticut Law Revision Committee, which, over the course of five years, wrote the Connecticut Code of Evidence. That Code now governs evidence in all Connecticut state trial courts. Bob continues to serve on the Connecticut Judicial Department's Code of Evidence Oversight Committee, which keeps the Code up to date.
"Our firm has the luxury of representing only the people whose cases we believe in. Once we have taken your case, we will spare no effort to bring it to a successful conclusion."
Education
J.D., Cornell Law School, Ithaca, New York, 1978
B.A., St. Lawrence University, Canton, NY, 1975
Honors: Magna Cum Laude Honors: Phi Beta Kappa
Jurisdictions Admitted to Practice Connecticut, 1978
U.S. District Court District of Connecticut, 1979
U.S. Court of Appeals 2nd Circuit, 1981
U.S. District Court Southern District of New York, 1981
U.S. Supreme Court, 1982

Professional & Bar Association Memberships
Connecticut Trial Lawyers Association
Member, Board of Governors 1982-2006
Connecticut Trial Lawyers Association
President 1992-1993 (Also held all executive offices)
American Association for Justice (formerly the Association of Trial Lawyers of America)
Member
National Board of Trial Advocacy
Certified in Civil Trial Advocacy 1992. Recertified 1997, 2002, 2007, 2012.
American College of Trial Lawyers
Fellow
United States District Court, District of Connecticut
Special Master
Connecticut Law Revision Commission, 1993 - 1997
Code of Evidence Committee
State of Connecticut, Judicial Department, Code of Evidence Oversight Committee, 1999 - 2014
Code of Evidence Oversight Committee of the Supreme Court, 2014 - Present
Connecticut Bar Association
Bridgeport Bar Association
Honors and Awards
Best Lawyers in America ®, Medical Malpractice-Plaintiffs; Products Liability-Plaintiffs; Personal Injury Litigation-Plaintiffs: All editions since 1993
Top Ten Lawyers, Connecticut Law Tribune, 1993
Top Lawyers in Connecticut, Connecticut Magazine, 2001
The New York Area's Best Lawyers, New York Magazine, 2005 - present
Connecticut Super Lawyer ®, Connecticut Magazine, 2006 – present (Personal Injury - Medical Malpractice: Plaintiff, Personal Injury - General: Plaintiff, Personal Injury - Products: Plaintiff)
2011 Stamford Area Medical Malpractice Lawyer of the Year, Best Lawyers in America ®
2012 Stamford Area Product Liability Litigation Lawyer of the Year, Best Lawyers in America ®
2014 Stamford Area Product Liability Litigation Lawyer of the Year, Best Lawyers in America ®
Litigation Percentage
100% of Practice Devoted to Litigation
Certification/Specialties
Civil Trial Advocacy, National Board of Trial Advocacy, Certified 1992, Recertified 1997, 2002, 2007, 2012
Published Works
Contingency Fees Under the Model Rules of Professional Conduct and the Tort Reform Act, CTLA Forum, Vol. 5, No. 1, January, 1987
Proving Damages, Co-author, Products Liability Practice Guide, 1988
Connecticut Evidence Review, CTLA Forum, Vol. 9, No. 6, November, 1991
Update on Evidence 1992, CTLA Forum, Vol. 10, No. 6, November, 1992
The Legal Framework of a Products Liability Case in Connecticut, Connecticut Bar Journal, Vol. 65, No. 5, October, 1993
Update on Evidence 1993, CTLA Forum, Vol. 11, No. 6, November, 1993
The Trial and Tribulations of 220(D), CTLA Forum, Vol. 12, No. 1, January, 1994
Update on Evidence 1994, CTLA Forum, Vol. 12, No. 6, November, 1994
BRB Carrier's Subrogation Rights After the Automobile Insurance Reform Act of 1993, CTLA Forum, Vol. 13, No. 1, January, 1995
Congress Enters the Tort-Reform Fray, The Connecticut Law Tribune, June 19, 1995
Update on Evidence 1995, CTLA Forum, Vol. 13, No. 6, November, 1995
Update on Evidence 1996, CTLA Forum, Vol. 14, No. 6, November, 1996
Update on Evidence 1997, CTLA Forum, Vol. 15, No. 6, November, 1997
Update on Evidence 1998, CTLA Forum, Vol. 16, No. 5, September/December, 1998
Update on Evidence 2000, CTLA Forum, Vol. 18, No. 4, October/December, 2000
Update on Evidence 2001-2003, CTLA Forum, Vol. 21, No. 2 October/December, 2003
Update on Evidence 2005, CTLA Forum, Vol. 23, No. 1 October/December, 2005
How to Value a Personal Injury Case, The Connecticut Law Tribune, Vol. 32, No. 22, May 22, 2006
New Rules Intended to Raise Professionalism, The Connecticut Law Tribune, Vol. 32, No. 49, November 13, 2006
Update on Evidence, 2006, CTLA Forum, Vol. 25, No.1, Winter, 2006
Update on Evidence, 2007, CTLA Forum, Vol. 25, No. 3, Winter, 2008
The Sunny Side of Apportionment, CTLA Forum, Vol. 25, No. 4, Summer, 2008
Update on Evidence, 2008, CTLA Forum, Vol. 26, No. 1, Spring, 2009
Update on Evidence, 2009, CTLA Forum, Vol. 26, No. 2, Winter, 2010
Update on Evidence, 2010, CTLA Forum, November/December, 2011
Update on Evidence, 2011, CTLA FORUM, April, 2012
Update on Evidence, 2012, CTLA Forum, March, 2013
Classes/Seminars Taught
The 1986 Institute of Evidence, Connecticut Trial Lawyers Association, November 1, 1986
Trial of a Rear End Collision Soft Tissue Damage Case, Connecticut Trial Lawyers Association, March 14, 1987
Fifth Annual College of Evidence, Connecticut Trial Lawyers Association, September 26, 1987
Wrongful Death, Connecticut Trial Lawyers Association, March 26, 1988
Sixth Annual College of Evidence, Connecticut Trial Lawyers Association, September 24, 1988
Products Liability, Connecticut Trial Lawyers Association, May 6, 1989
Seventh Annual College of Evidence, Connecticut Trial Lawyers Association, September 23, 1989
Eighth Annual College of Evidence, Connecticut Trial Lawyers Association, September 22, 1990
Ninth Annual College of Evidence, Connecticut Trial Lawyers Association, September 14, 1991
Proving Damages, Connecticut Trial Lawyers Association, April 11, 1992
Tenth Annual College of Evidence, Connecticut Trial Lawyers Association, September 19, 1992
Eleventh Annual College of Evidence, Connecticut Trial Lawyers Association, September 18, 1993
Twelfth Annual College of Evidence, Connecticut Trial Lawyers Association, September 17, 1994
Screening, Preparing and Winning The Medical Malpractice Case, Connecticut Trial Lawyers Association, October 22, 1994
Recovering Damages for Increased Risk or the Loss of a Chance, American Association for Justice's National College of Advocacy, Snowmass, Colorado, February 25, 1995 - March 1, 1995
Thirteenth Annual College of Evidence, Connecticut Trial Lawyers Association, September 16, 1995
Fourteenth Annual College of Evidence, Connecticut Trial Lawyers Association, September 28, 1996
Fifteenth Annual College of Evidence, Connecticut Trial Lawyers Association, September 20, 1997 - August 20, 1997
How to Make Money on Low Impact, Connective Tissue Cases, Connecticut Trial Lawyers Association, April 4, 1998
Sixteenth Annual College of Evidence, Connecticut Trial Lawyers Association, September 12, 1998
Seventeenth Annual College of Evidence, Connecticut Trial Lawyers Association, September 18, 1999
Mastering Connecticut's New Code of Evidence, Connecticut Bar Association, October 8, 1999 - September 8, 1999
Eighteenth Annual College of Evidence, Connecticut Trial Lawyers Association, August 16, 2000 - September 16, 2000
See the Jury Think: "Focus" on Damages, Connecticut Trial Lawyers Association, March 17, 2001
Nineteenth Annual College of Evidence, Connecticut Trial Lawyers Association, September 15, 2001
Twentieth Annual College of Evidence, Connecticut Trial Lawyers Association - Connecticut Civil Justice Foundation, September 21, 2002 - August 21, 2002
Effectively Handling Your Medical Malpractice Case, Connecticut Trial Lawyers Association - Connecticut Civil Justice Foundation, October 4, 2002
Twenty First Annual College of Evidence, Connecticut Trial Lawyers Association - Connecticut Civil Justice Foundation, September 20, 2003
Twenty Second Annual College of Evidence, Connecticut Trial Lawyers Association - Connecticut Civil Justice Foundation, September 18, 2004
Twenty Third Annual College of Evidence, Connecticut Trial Lawyers Association - Connecticut Civil Justice Foundation, September 10, 2005
Your Evidence Toolbox, Fairfield County Bar Association, April 25, 2006
Supreme and Appellate Court Review, Connecticut Trial Lawyers Association Annual Meeting, June 19, 2006
Twenty Fourth Annual College of Evidence, Connecticut Trial Lawyers Association Connecticut Civil Justice Foundation, September 9, 2006
Your Evidence Toolbox, Hartford County Bar Association, January 18, 2007
Making a Federal Case of It: Feeling Confident in Federal Court, Connecticut Civil Justice Foundation, May 18, 2007
The Art of the Civil Trial, Fairfield County Bar Association, June 6, 2007
Supreme and Appellate Court Review, Connecticut Trial Lawyers Association, June 14, 2007
Twenty-Fifth Annual College of Evidence, Connecticut Trial Lawyers Association – Connecticut Civil Justice Foundation, September 15, 2007
June 2, 2008, Supreme and Appellate Court Review, Connecticut Trial Lawyers Association Annual Meeting
December 6, 2008, Twenty-Sixth Annual College of Evidence, Connecticut Trial Lawyers Association – Connecticut Civil Justice Foundation
June 8, 2009, Supreme and Appellate Court Review, Connecticut Trial Lawyers Association Annual Meeting
September 25, 2009, Twenty-Seventh Annual College of Evidence, Connecticut Trial Lawyers Association – Connecticut Civil Justice Foundation
June 7, 2010, Supreme and Appellate Court Review, Connecticut Trial Lawyers Association Annual Meeting
September 11, 2010, Twenty-Eighth Annual College of Evidence, Connecticut Trial Lawyers Association – Connecticut Civil Justice Foundation
June 13, 2011, Supreme and Appellate Court Review, Connecticut Trial Lawyers Association Annual Meeting
September 10, 2011, Twenty-Ninth Annual College of Evidence, Connecticut Trial Lawyers Association – Connecticut Civil Justice Foundation
June 4, 2012, Supreme and Appellate Court Review, Connecticut Trial Lawyers Association Annual Meeting
September 22, 2012, Thirtieth Annual College of Evidence, Connecticut Trial Lawyers Association – Connecticut Civil Justice Foundation
April 5, 2013, Bad Faith and Negligent Failure to Settle, Connecticut Trial Lawyers Association – Connecticut Civil Justice Foundation
June 10, 2013, Supreme and Appellate Court Review, Connecticut Trial Lawyers Association Annual Meeting
September 7, 2013, Thirty-First Annual College of Evidence, Connecticut Trial Lawyers Association – Connecticut Civil Justice Foundation
June 2, 2014, Supreme and Appellate Court Review, Connecticut Trial Lawyers Association Annual Meeting
September 13, 2014, Thirty-Second Annual College of Evidence, Connecticut Trial Lawyers Association - Connecticut Civil Justice Foundation
June 8, 2015, Supreme and Appellate Court Review, Connecticut Trial Lawyers Association Annual Meeting
September 12, 2015, Thirty-Third Annual College of Evidence, Connecticut Trial Lawyers Association - Connecticut Civil Justice Foundation
June 6, 2016, Supreme and Appellate Court Review, Connecticut Trial Lawyers Association Annual Meeting
September 23, 2016, Thirty-Fourth Annual College of Evidence, Connecticut Trial Lawyers Association - Connecticut Civil Justice Foundation
Past Employment Positions
Cohen and Wolf, P.C., 1978 - 1998